Just two weeks into the new season, one question is on the lips of virtually all fans nationwide: who will win the Premier League? Here I profile the main contenders, and how they need to strengthen in what remains of the transfer window.....
Arsenal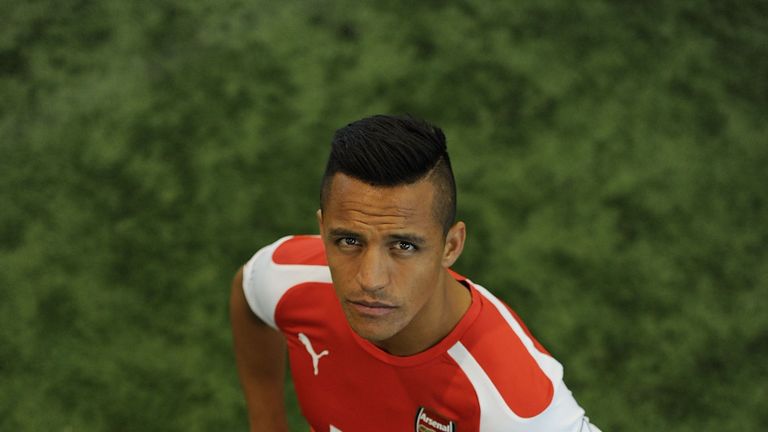 Sanchez adds star quality, but does this just paper over the
cracks in Arsenal's defence?
Source: Sky Sports
Verdict:
Arsenal have improved their squad considerably in this transfer window. Alexis Sanchez looks to have given them more pace and star quality in attack, while the defensive additions of Calum Chambers and Mathieu Debuchy provide a very promising right/centre-back utility player and an international-class right back respectively. Their tiki-taka-esque passing seems bound to unlock the fragile defences of bottom half teams, although doubts remain as to whether the likes of Aaron Ramsey and world-cup winner Mesut Ozil can unlock the defences of those higher up the league table. A new-found resolve may also be suggested by hard-fought points gained against Crystal Palace and Everton, while the under-the-radar addition of German World Cup Physio Shad Forsythe may help the Gunners reduce their notoriously large injury list, with starters Ramsey, Walcott and Gibbs all missing sizeable chunks of last season owing to injury.
Nevertheless, the backbone of the side still appears lightweight. Chambers at 19 does not seem an adequate replacement for Vermaelen, while no midfield destroyer has been added. Everton's surrender of a 2-0 lead in the last 10 minutes yesterday should not paper over the very obvious weaknesses both in defensive midfield and central defense. Arsenal were woeful in the first half on Saturday, with Mertesacker's blindingly obvious lack of pace not accounted for by squad-player standard Flamini in the build-up to the second goal, and Ozil leaving Coleman unmarked for the first to allow Arsenal to concede after a promising start at Goodison. Unless CB cover and a defensive midfielder of the standard of Chelsea's Matic or City's Fernando arrives before the end of the window, it seems unlikely Arsenal will end their 10-year cycle of 3rd or 4th place finishes accompanied by vitriolic disappointment from the stands.
Prediction: 3rd, coming unstuck in the big games against title rivals again
Chelsea
Will the title accompany Drogba on his return to Stamford


Bridge?

Source: Daily Mail
Verdict:
Were it not for inconsistent patches against clubs lower down the league table, such as away defeats to the likes of Stoke, Aston Villa and Crystal Palace, Jose Mourinho's Chelsea would have comfortably won the League last season. Summer additions of Felipe Luis and Cesc Fabregas appear upgrades on the ageing pair of Ashley Cole and Frank Lampard, while Diego Costa is likely to bring the attacking firepower so sorely lacking against the likes of Stoke and Crystal Palace last season. The striker's la Liga goal tally of 27 was only beaten by unquestionably the two greatest players in the world - Messi and Ronaldo - a sure sign that Costa will help to unlock the "19th century football" tactics of West Ham so ironically decried by Mourinho last season. Chelsea's brushing aside of Burnley and Leicester in their 2 opening games, particularly considering the heroics of Schmeichel on Saturday, is a promising sign that Mourinho's side have overcame last season's inconsitency against the so-called lesser sides of the Premier League.

It appears difficult to spot a weakness in the West London side. In Courtois and Cech Chelsea undoubtedly have the two best goalkeepers in the country, while the spine of Terry, Cahill, Matic, Fabregas, Hazard and Costa look to have the right balance of power, defensive solidity and creativity running throughout the side. Personally, the questionable defensive contribution of Fabregas in central midfield and the lack of pace in the Terry-Cahill partnership look the only question marks in the side. Depth is certainly not an issue, with the likes of Ramires, Willian, Schurrle and Drogba able to make a difference off the bench or cover for injuries. Jose Mourinho has never gone three seasons without winning the title. This season, Chelsea will be difficult to stop.


Prediction: 1st, edging Manchester City to the Title
Liverpool
As Suarez waves goodbye to Merseyside, will Liverpool
wave goodbye to title ambitions?
Source: Daily Telegraph
Verdict:
In the post-Suarez era, Brendan Rodgers' Liverpool seem to have retained their swashbuckling attacking effervescence, although perhaps lacking the world-beating class of last season without their talismanic Uruguayan. Sterling, Coutinho and Sturridge seem likely to continue to propel Liverpool towards the upper echelons of the league table, although the additions of Lallana, Lambert, Markovic and the maverick Mario Balotelli seem unlikely to fill the Suarez-shaped hole in the Liverpool attack. Add to this the return of energy-draining midweek Champions League football, and it seems unlikely that Liverpool will emulate last season's surprise, yet ultimately futile assault on the Premier League title. Their struggle to overcome a vastly depleted Southampton side in the opening weekend, in stark contrast to their dismantling of sides last season, is an ominous sign that Liverpool have failed to replace Suarez. Considering his world-class pedigree and terrier-like work-rate, that is eminently unsurprising.


The Achilles Heel of Liverpool's title challenge last year was defensive solidity, a problem Rodgers has seeked to address. The addition of Dejan Lovren is likely to give the Reds' defence leadership sorely lacking since the retirement of Jamie Carragher, brutally exposed last year most notably against Crystal Palace. Like Arsenal, however, the suspicion remains that Liverpool do not have adequate cover in central midfield against the better sides. Away defeats to title rivals Arsenal, Chelsea and Manchester City, and Chelsea at home, to me expose the failure of Gerrard as a defensive midfielder. A personal opinion is that Liverpool need a destroyer alongside the metronomic Gerrard, covering the centre backs to allow Gerrard to act the deep-lying playmaker role he craves at this stage in his career. While Emre Can looks promising, Lucas still portrays all the attributes of a squad player, unable to protect the defence against the elite attacking forces Liverpool will encounter at home and abroad.
Prediction: 4th
Manchester City
After the shambles of Yaya Toure's birthday cake, can Man
City recover to retain the title?
Source: Daily Telegraph
Verdict:
Considering the wealth of talents in the City squad, The Citizens should have walked to the premier League title last season. That they did not is arguably indicative of a mental fragility within the squad. To this end, manager Manuel Pellegrini has added a wealth of experience to his squad, signing Bacary Sagna to provide back-up to Pablo Zabaleta at right back, defensive midfielder Fernando from Porto, goalkeeper Willy Cabalero to keep Joe Hart on his toes and, perhaps most importantly, the highly promising Eliaquim Mangala from Porto to provide a potential world-class central defensive partner to captain Vincent Kompany.
Whether this is enough to retain the Premier League title is debatable. Yaya Toure's birthday shenanigans cannot help considering he was for me the crucial factor in City's title bid last time around, while the signing of Caballero and Pellegrini's refusal to name his number 1 might make their defence uneasy. Nevertheless, Jovetic finally looks to be the player City signed a year ago, which could be crucial if Aguero remains as injury-prone as he was last season and in the World Cup. Personally, City look to me to just fall short of the Chelsea side, so a very close 2nd for me.
Prediction: 2nd
Manchester United
Van Gaal looks to have the arrogance for the Man United job
but does his team have the quality?
Source: TalkSport
And so the shambles that is Manchester United rumbles on. They might have gotten rid of Moyes, who looked out of depth from the start and without the required arrogance for an elite Club, but even under the management of the perennially successful Loius van Gaal Manchester United still look very short of the quality demanded at Old Trafford. Luke Shaw and Ander Herrera look good prospects, but not worth the combined £60 million United shelled out to secure their signatures. Rojo and possibly di Maria look more astute acquisitions, di Maria especially, providing the pace in attack sorely lacking in their opening two games. Serious deficiencies remain, however. Vidic and Ferdinand have not been replaced at the heart of defence, with Evans, Jones and Smalling still not looking world-class even though the price tag of the latter two might suggest otherwise. Similarly, their midfield looks lightweight, lacking a midfield destroyer as exposed on the opening day so brutally by, with all due respect, Swansea of all people.
Were it not for their illustrious recent history, Manchester United hardly warrant a place in this list of potential title winners. Their squad looks severely short of title-winning quality, a fact best displayed by the panic that seems to have engulfed the club yet again as transfer deadline day again approaches. Di Maria looks far too expensive, displaying all the signs of a panic buy much alike that of Mata or Fellaini in the previous two windows. He might not be what United need, but he is something, a very expensive something at that.
Prediction: a distant 5th